25.02.2014
Joining forces in the battle against HIV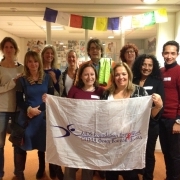 AFEW wants to work smarter instead of harder
In a time of constraints, we need to utilize scarce resources efficiently and effectively.  On January 16, 2014, Aids Foundation East-West (AFEW) hosted representatives from AIDS Action Europe and seven other organisations in Amsterdam that support women living with HIV. With this meeting we wanted to share expertise, explore potential partnerships, and learn about the participating organisations. "This is important for the organisations themselves, but also for their beneficiaries. By working together, we can identify effective methods and techniques, share experiences, and improve our services and outreach methods, "said Anke van Dam, Executive Director of AFEW.
Open discussions about the needs of women living with hiv
It was not the first time AFEW organized a meeting with the representatives of these organisations. The original introductions took place in October 2013 during a study tour planned and implemented in conjunction with Focus Media, an NGO based in the Russian Federation.  This study tour was focused on the needs of and services provided to women living with HIV in Eastern Europe and Central Asia. AFEW gathered the presenters and other stakeholders of the relevant Dutch organisations that were visited during the study tour for a 'kennismaken' session. This fruitful meeting led to open discussions about the needs of women living with HIV and how they differ from those of men. After this initial contact, AFEW will follow up with another meeting at the end of the summer 2014.
Join forces with AFEW
AFEW would like to gather other examples of activities and working with women living with HIV. Does your organisation supports women living with HIV? AFEW invites you to share examples of your work. You can contact Project Manager Corie Leifer by email.
Corie Leifer
Project Manager
---
Share this Site
Facebook
Twitter
VK