25.02.2014
AIDS Action Europe at Quality Action meeting in Berlin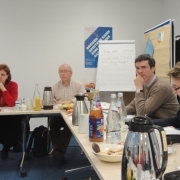 What is Quality Action? 
Quality Action is the EU co-funded Joint Action on "Improving Quality in HIV Prevention" (QHP), an ambitious and comprehensive 3-year project, initiated by the European Commission. It aims at improving in a structural way prevention efforts at various levels – from policy to the development of tools and interventions. Partners from all over Europe, from the governmental and non-governmental sector, are involved in the action, and AIDS Action Europe (AAE) is one of the cooperating partners. AAE contributes in particular in the areas of policy and communication.
Meeting in Berlin
On 6 and 7 February 2014, the members of the policy work package met in Berlin. The meeting was hosted by Deutsche Aids-Hilfe, and on behalf of AAE, interim coordinator Georg Bröring participated. There are two main aims of the quality work package: firstly, to assess the policy environment for quality assurance and quality improvement in HIV prevention; and secondly, to develop and produce a policy kit that can be adopted and applied in national or regional HIV prevention strategies.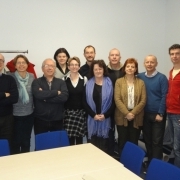 Taking a step forward
The participants of the meeting in Berlin – originating from Spain, Slovenia, Germany, Austria, Estonia, Ireland and the UK – had lively discussions about definitions of quality assurance and quality improvement and agreed about the steps forward. In particular, it was investigated how the Joint Action can learn from policy making experiences on the one hand, and feed into current policy making processes on the other hand. The role of AAE is to link up with European policy making.
Bringing quality of HIV prevention to a higher level
Quality is often seen as a self-evident element of HIV prevention efforts. However, if you look closer at prevention planning, implementation and evaluation, quality aspects are not explicitly formulated. Accountability and sustainability are often not sufficiently considered in a structural and integrated way. QHP strives to bring the quality of HIV prevention policies and interventions to a higher level, thereby making a significant and meaningful contribution to the fight against AIDS in Europe.
Georg Bröring
Executive Coordinator AIDS Action Europe
---
Share this Site
Facebook
Twitter
VK