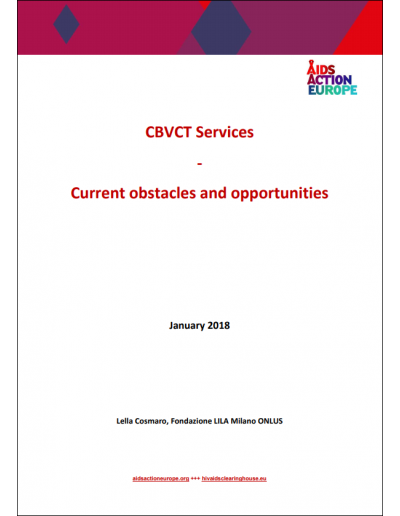 The aims of the CBVCT are ensuring diagnosis, counselling and initiation of treatment and care and reducing the number of late presenters, advocating for low-threshold VCT in community based settings.  The better knowledge and awareness about the mentioned barriers can help to overcome them and make the cooperation more effective. Therefore, AAE continues to advocate for low-threshold VCT in community based settings as an adequate instrument to reach seemingly healthy, asymptomatic persons who are at increased risk of HIV, hepatitis C or STI and developed an advocacy tool for better usage of community based voluntary counselling and testing at national and regional level outside medical settings. This happened in particular under inclusion of implemented EU projects and their stakeholders by analysing the existing gaps and phrasing recommendations.
In 2017 AIDS Action Europe developed an Advocacy Tool that addresses gaps and challenges for the cross-sectoral cooperation in the field of CBVCT in Europe. This study assembles the opinions and ideas of different stakeholders who provided very diverse points of view on the subject, because as they play different roles at the national and European levels and come from different countries. Their opinions and ideas, together with some extracts of the many documents produced on the subject of CBVCT services, were used as the basis to develop recommendations which serve as an advocacy tool for improving the actual situation.
AAE continues working on CBVCT, facilitating good practice knowledge exchange, capacity building and dissemination of results and news. This occurs by continuing AAE's work on CBVCT in co-operation with the COBATEST and EURO HIV/EDAT networks and their coordinating organisation CEEISCAT in Barcelona.